Updated 04/2022
Whenever anyone asks me what I love the most about living in Italy my answer, without hesitation is always: Aperitivo. Now, obviously, my reasons for loving this country go way beyond just an early evening drink, but without blabbering on about all I love, the tradition of an Italian aperitivo sums it up perfectly.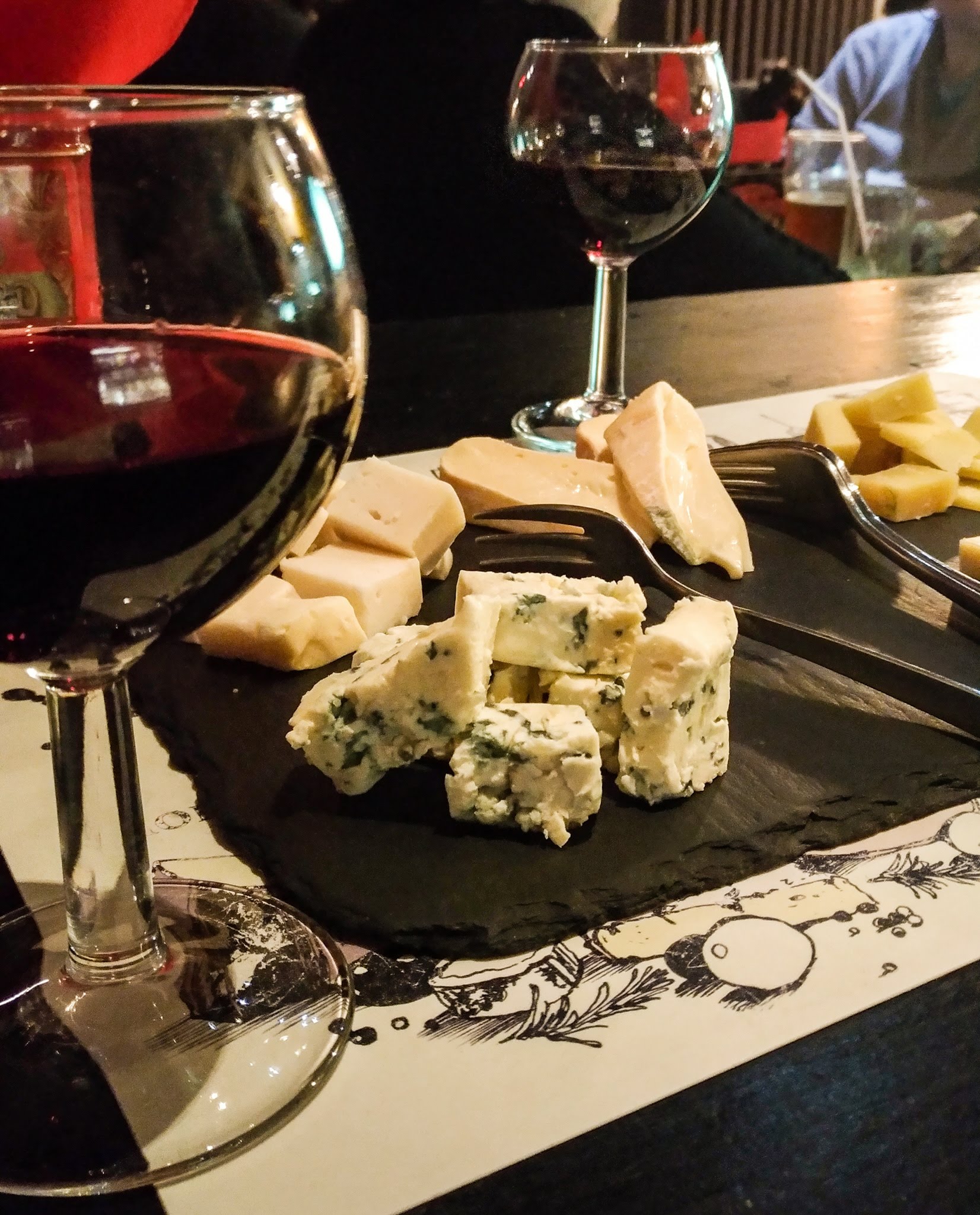 So what is aperitivo? Just the Italian version of Happy Hour, right? Not exactly. Aperitivo, or as some may call it "apericena" is the event of sharing a (usually alcoholic) drink and some food, in the few hours before dinner, about 4 pm to 10 pm. An evening aperitivo is both a way to wind down from the day, as well as open up your appetite for dinner. That may sound similar to Happy Hour, but what changes is the ambiance, and feeling behind it.
Aperitivo is not just another excuse to drink. Rather, aperitivo is the perfect moment of the day to be completely present, to look around and appreciate your city, and the friends (or strangers!) you may be sharing this moment with. That is what I love about aperitivo, it's a moment of pure bliss, surrounded by a gorgeous piazza, a quiet side street, a traditional old bar, or a modern take with a DJ. No matter the surroundings it always shows the many faces of Italy.
As you travel around the country, and as you spend more time here you realize there are different types of aperitivo.
 One, more often in the south or cheaper bars, maybe simply a drink served with a few potato chips, olives, and nuts. Though simple and maybe not so captivating to one's appetite, it still offers the perfect moment to share a laugh with friends and let the beauty of the day sink in. My fondest memories of this type of Aperitivo were always at Bar Archi in Rome. Archi was the closest bar to our University, located just on the corner of Via Fratelli Bonnet in Monteverde, facing the arches of the ancient City Walls. After the last class of the day, everyone would gather here to share a large  Peroni or Spritz, or if we were celebrating one of the small bottles of Prosecco and just a few snacks. We would stay there for hours, pushing their closing time, as we talked about school, futures, and just what we should do next with our day. It also was a place to meet professors; being a small school we were so close we could often ask a Professor to join us for a beer to continue their lesson or to ask for advice.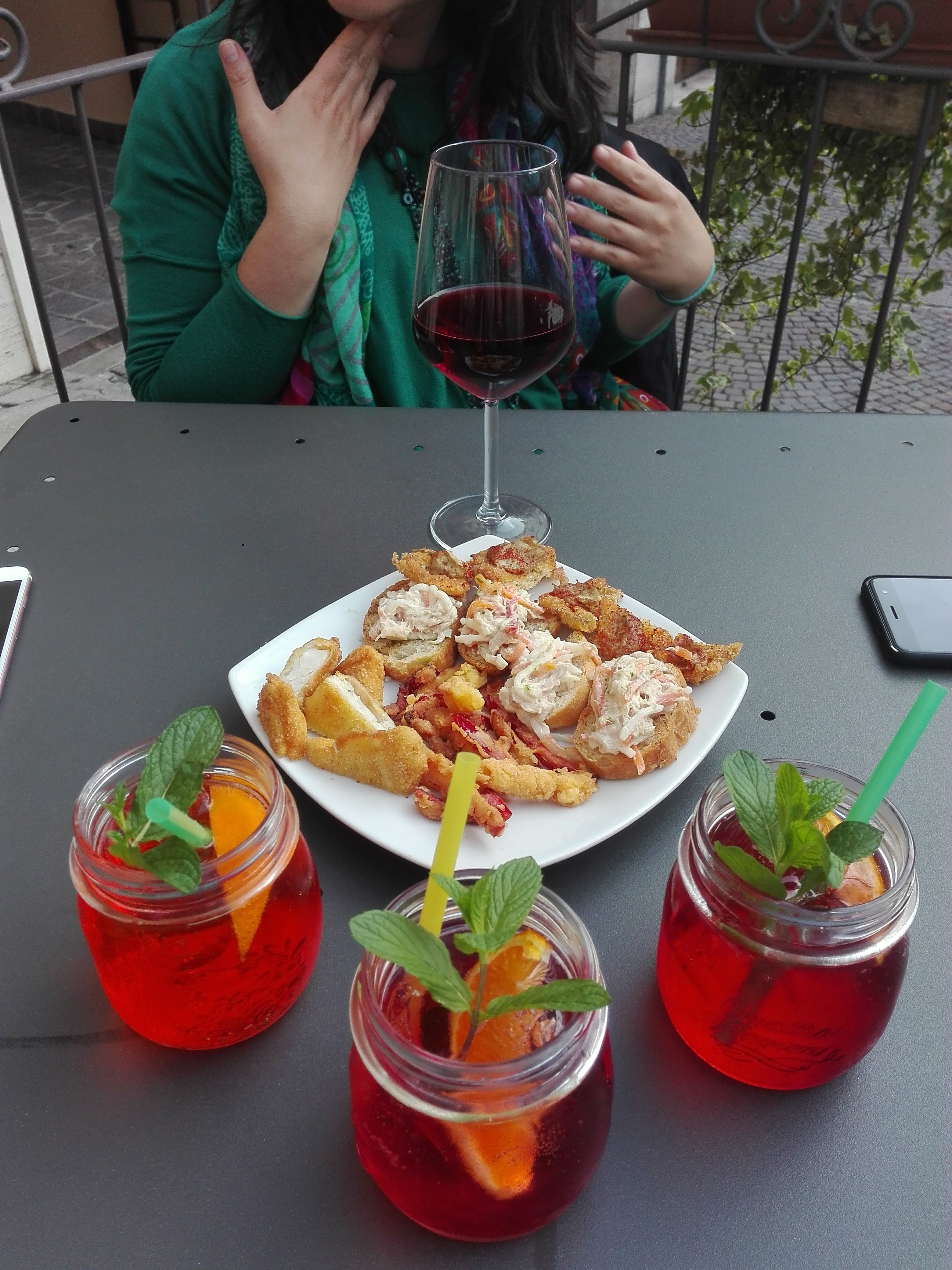 The second type of aperitivo is probably most famous in Milan but has found its way into other cities: the Buffet Aperitivo, another favorite of students and younger Italians. For this aperitivo, you usually pay for your drink plus 2€, or a base of 10€ and you have access to a never-ending buffet of Italian dishes. They serve not only snacks bite-size snacks but also bruschetta, pasta dishes, focaccia and pizzette, grilled veggies, and salads. If you are really lucky they'll even serve up some desserts!
This one is popular with younger crowds because instead of being an opening to dinner, it often becomes a full dinner for those of us on budget. One of the biggest criticisms of older Italians is that because of the buffet style, the food lacks in quality. Unfortunately, this is at times true, but not always! (General rule of thumb, stay away from seafood ones and stick to the veggie options! ) Some of the bars can have incredibly good buffets, including vegetarian and vegan options. Here are some of our favorites to try:
Milan: Rita, UGO Cocktail Bar, N'ombra de Vin
Torino:  Margot in Vanchiglia, Lanificio San Salvatorein San Salvario, La Drogheria in Centro, Circolo Santa Giulia
And the last type of Aperitivo, maybe a bit more refined aperitivo, coming from Torino, would be when you order a drink, the bar then brings you small personalized plates. Sometimes it is a simple tagliere, other times it may be a mix of tea sandwiches, focaccia, meats, and cheeses. In Bar Zucca, they will continue to replenish your table with freshly prepared snacks including small sliders.  Every city may do this a little differently, for example, in Tuscany, they will probably serve you a cheese plate with honey and jams. Many Torinese prefer this type of Aperitivo as the quality is better and it is just the right amount of food to prepare for dinner.
Some of our favorites are:
Torino: Mulassano, Bar Zucca, Mago di Oz
Milan: Felix Navigli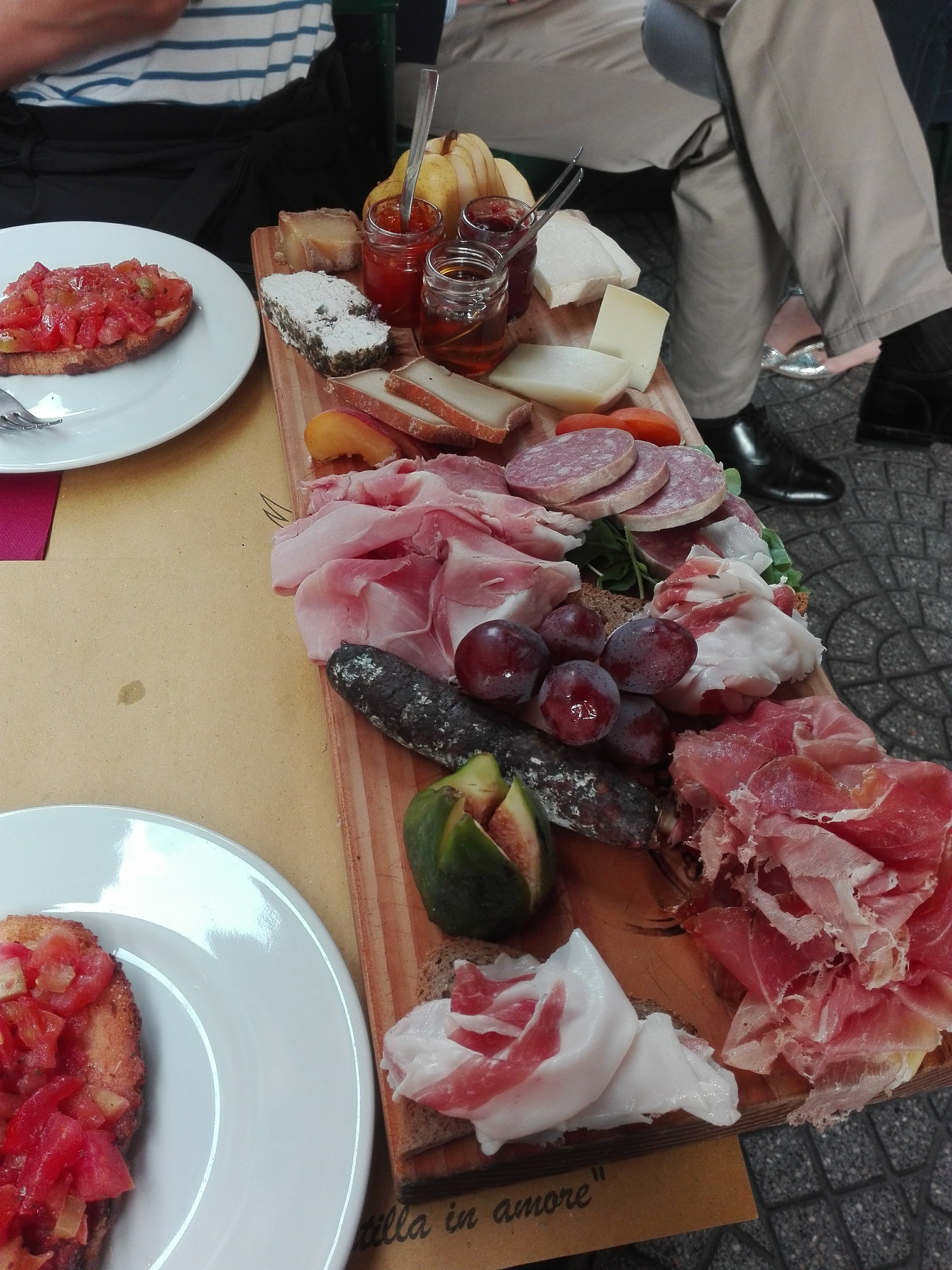 For most Aperitivi there will be snacks provided, however in other places you may have to order an accompanying plate to snack on. They usually do not cost much and are well worth it.
Some of our favorites for this are:
Torino: Il Barotto, Parola Enoteca
Apart from the setting and the snacks, the real heart of aperitivo is of course, what to drink. It is not common to order a creative fruity cocktail, but rather an aperitif-based one or your favorite wine or beer.
Throughout Italy, you will often have people ordering the famous Spritz. In Piedmont, you may see it more common to have a glass of local wine or even their famous alcohol: Vermouth of Torino.
Tell me what is your favorite aperitivo spot?