When you first arrive in Italy, it may seem that living plastic free in Italy is not as popular as in other countries. You will see plastic water bottles everywhere, straws, and so much single use waste. Over time I have started to find solutions to the plastic waste I create here in Italy. Let me tell you, it took some time. Many products I found were on Amazon at the beginning and that seems counter-intuitive as if I am bothering to go plastic free in Italy, I would also like to shop local.
Plastic Free Stores around Italy
You can find some shops that are plastic-free in Italy in certain cities. 
Negozio Leggero
One of my favorites in Torino is Negozio Leggero they are located in Asti, Bergamo, Bormio, Milano, Lugano, Palermo, Roma, and Torino.
Here you can get a range of plastic-free beauty products made with all-natural ingredients. Many are solid or in glass containers, most of which can be brought back for a discount on your next purchase. You can also find candy, cereals, flour, rice, spices, teas, cookies, beans, and lentils all in bulk,. You can either bring your own container or they will put them in a paper bag for you. Negozio Leggero also has vino sfuso, and olive oil sfuso, plus dish soap, laundry detergent, various house cleaners, you name it. For these things, you do have to bring a container. They will refill it for you. Lately, I have also noticed they have Kefir and Yogurt starters so you can make your own in glass containers!
Something I really love about Negozio Leggero is they are the only plastic-free toothpaste option I have found. They have it in a glass container with a pump, and it can be brought back and refilled.
The only thing is this, it is a chain, the prices are a bit higher, and I cannot say 100% where their ingredients come from. However, on the plastic-free living scale, it is heaven.
A little store I was told about in Florence. Green Go is a small bottega with plastic free beauty and house products as well as foodstuffs in bulk.
Two options for shopping in Rome with refillable detergents and sfuso products.
Pharmacies
In Select pharmacies around Italy, you can find some "alla spina" products. Meaning, on tap, there are refillable detergents and dish soaps. The company is Biolu, all their products are all natural and vegan. You have to buy their container, but then you bring it back time after time and refill it.
These are both organic food stores you can find all around Italy. Both have a large selection of organic, gluten-free and vegan food. But on top of that, there are many bulk food options and plastic-free goodies. They also carry the Biolu detergents mentioned above. I have noticed every store is different so it is not guaranteed they will all have the same selection but they are a good start!
Lush
The obvious choice when it comes to plastic-free beauty worldwide, Lush can be found in nearly every major city in Italy, as well as online. They offer a wide selection of plastic free beauty options with their solid soaps, shampoos, and conditioners. However, they do use minimal chemicals in their products, and still, sell over half their products in plastic, so I sometimes feel torn using them.
Online Options for living Plastic Free in Italy
Finding plastic free in Italy is probably easiest online. There are plenty of online shops to find beauty and house goods. Unfortunately, these stores are often more expensive as the shipping costs add up. Some otionsa are:
FriendlyShop.it Shipping from 4.90 euro in Italy and is free for over 68 euros 
Serendipity Shipping starts at 7,50 euro, and is free after 65 euro
Gea Primarily beauty products, including deodorant and toothpaste! However, free shipping only over 100 euros!
Take Advantage of the Market
Best way to live plastic free in Italy when it comes to food: shop at the market! Bring your own bag and ask vendors not to put veggies and fruits in one of their bags. Though normally these market bags are biodegradable and you can use them for holding compost. Markets will have all the fruit, veggies, meat, salumi, and cheeses, you can want. Depending on your market you may also find milk, coffee, and other necessities in plastic-free form. Best to keep an eye out and check it out. For example, at Porta Palazzo in Turin, I have found fresh pasta stands that will put all pasta in a paper bag. As well as vendors who sell greek yoghurt, cottage cheese, and mozzarella in bulk. Now, if you order directly, they will always put it in a flimsy plastic container, BUT if you bring your own container, they are happy to fill it up for you. So save all your glass or sturdy plastic containers and bring it on by next time!
---
Some Plastic Free in Italy Essentials
Shampoo Bar- The best way to start cutting plastic out of your beauty routine, look for a shampoo bar. You don't even have to look for a special store. You can find the Garnier Shampoo bar even in your local supermarket. They have different versions for your hair type. Each bar is worth 500ml of shampoo (that's two bottles!), and only costs about the same as one. Check them out next time you're in the store!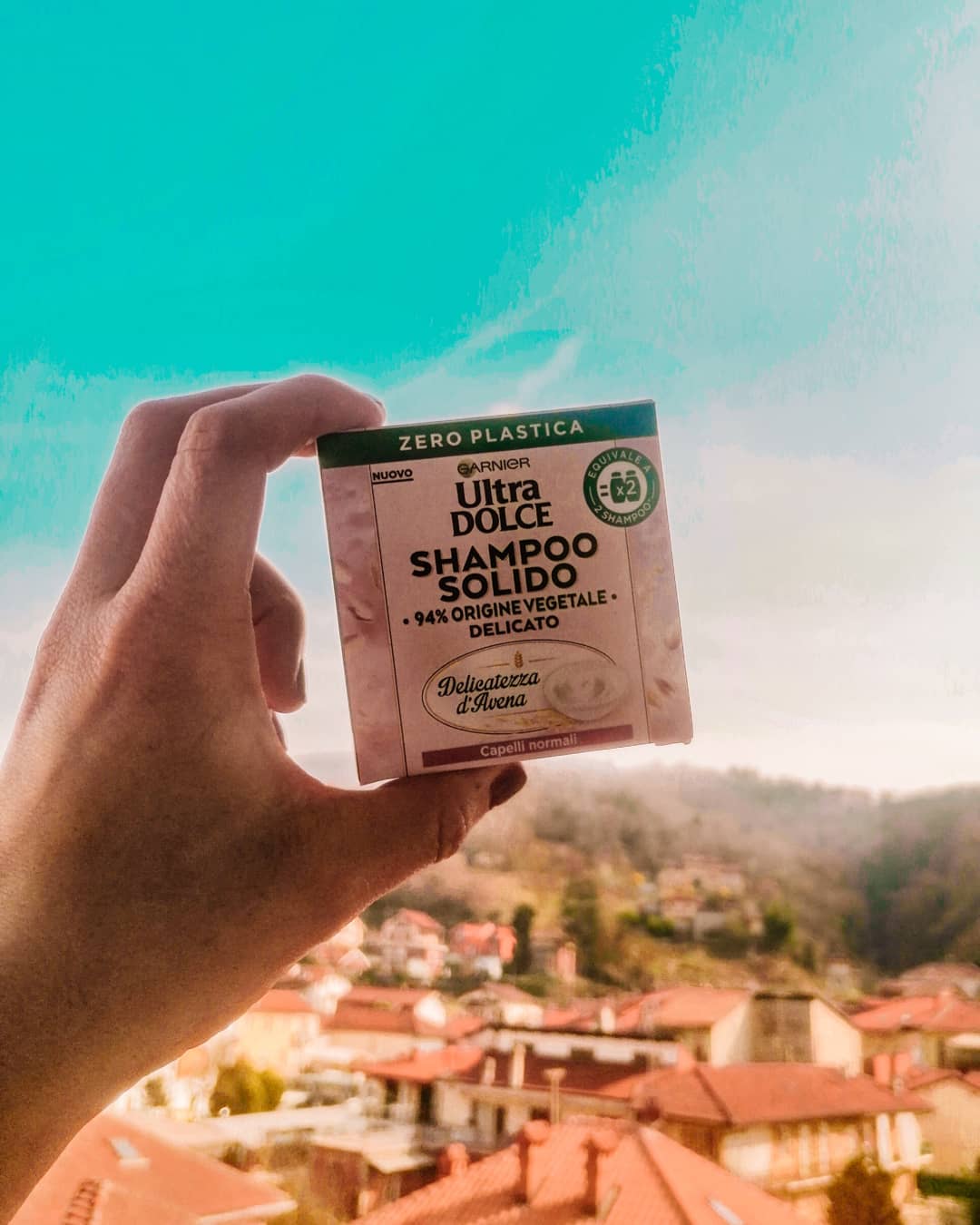 Bees WaxWrap- Italians use a lot of plastic wraps, from saving cheese, to leftovers, wrapping just the remainder of an onion. That is why I found some Bees Wrap. While the original version from Middlebury VT was not easy to find in Italy, I did find an Italian brand that has started producing this plastic wrap alternative. I have primarily seen it in Eataly or at a few of the above-mentioned online shops.
Water Bottles- Do not let the Italians fool you- ALL WATER IN ITALY IS DRINKABLE. And most cities have fountains throughout the city where you can fill up your water bottle, so make sure to always have one on hand. If you are oddly picky about your water, get yourself a BRITA or, look out for the SMAT points, which provides filtered water, free if it is natural, 5 cents a half liter for frizzante.
Travel Cups & Picnic Equipment – When summer rolls around, you will find you often go to the park or even the beach for a little picnic. While most may opt for an easy plastic purchase in the store, there are alternatives. Keep an eye out for some sturdier plastic cups, or silicone collapsible ones. Camping cutlery is also a good idea.
---
A note on Recycling Waste-
The beautiful thing about Italy is that you are forced to separate trash, and nearly everything can go into one of the recycling bins. Every city is different, and in fact, every street within the city is different. But essentially trash is separated into Plastic, Glass and Aluminum, Paper, Compost and the rest. Again every location is different, for example in half of Turin, there is Compost, in other areas of the center, there is not. Certain towns allow Tetra-Pak to be recycled in paper, others say no, it is trash or plastic.
Now even though this system is fantastic and in the end your actual "trash" ends up being low…. I still have NO idea where those recycled and compost categories go. I have never seen a recycling plant and never heard any mention. If anyone does have any information about this I would so love to learn about so send me a note! Either way, it at least makes me feel a bit better and I do see many products made with recycled materials.
Know another great spot?
Of course, this is probably not a complete list, and I am always looking for more options. Send me a message if you have anywhere else I should add to the list.