Trying to figure out exactly how to spend only one week in Italy isn't an easy task. Mainly because it is a large country with much to see and it is most likely you will miss out on some of your Italy bucket lists.
However, if you get prepared and lay out your itinerary well, you can definitely have a great trip to Italy and head home feeling satisfied that you enjoyed your first taste of Italy.
I wanted to share some information so you can approach planning for one week in Italy a bit realistically. I know it is common to jump and write every city on the list but let's take a step back and think of the best itinerary to enjoy your time!
Things to remember:
– You lose two days' travel, from both days of your arrival and departure flight.
-If you choose to move around, book your arrival and departure flights at different airports. For example, if you start in Rome but end in Piedmont, Venice, or Milan. Book your incoming to Rome, outgoing from one of these Northern cities. This helps you save travel time!
-Trains may often be delayed, canceled, or very slow. Go with the fast trains if you can but remember to not bring too much luggage to carry around!
-Remember every day traveling involves, transport to the station, waiting for a train (that very likely could be late), the train itself, then transport from station to new hotel, checking in, etc. All that eats up a lot of time and just seems like more work than vacation.
-Every corner of Italy has so much culture to Explore| Each region is so packed full of culture you will get a much better sense if you stay put.
Structuring your 1 week Italy Itinerary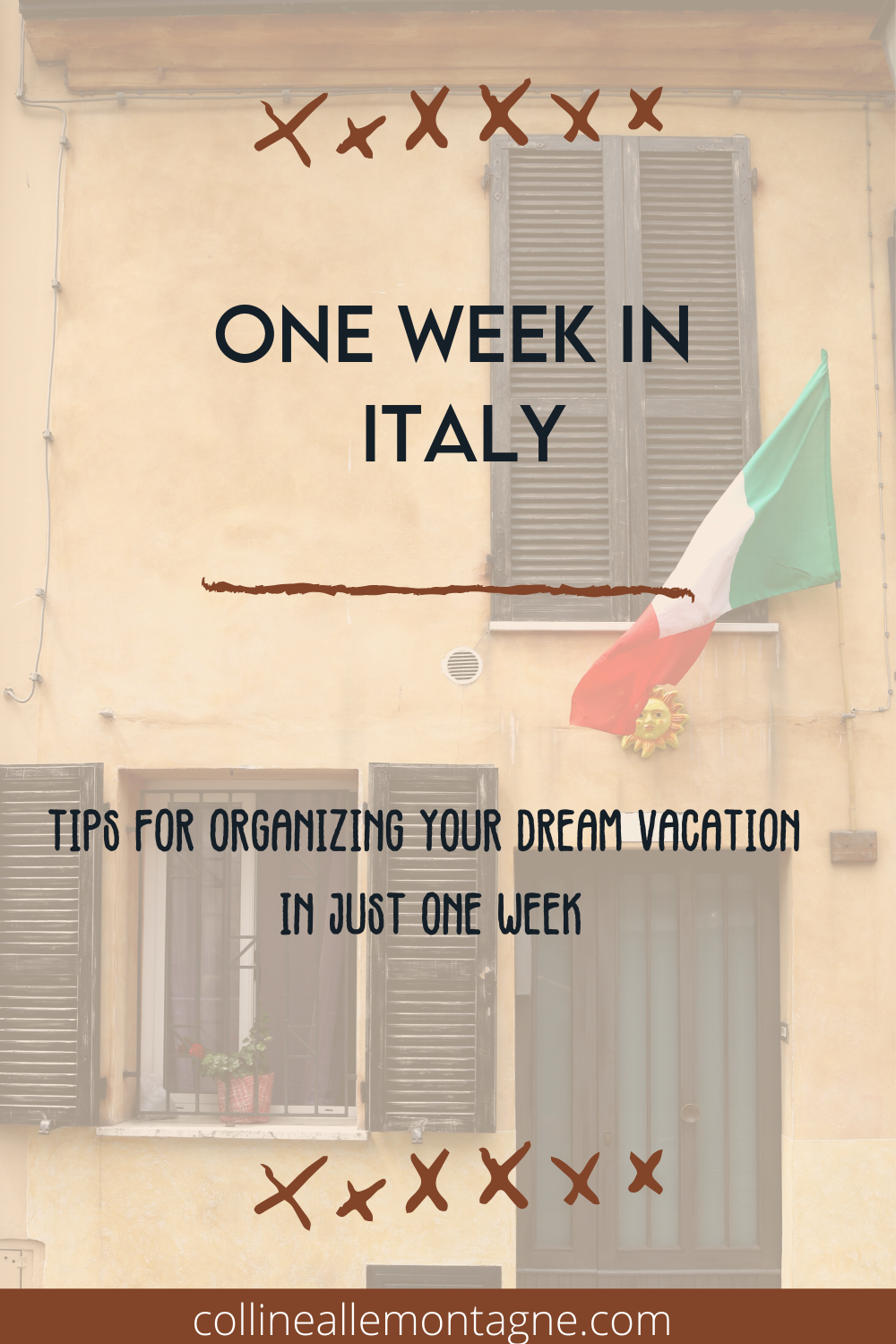 Basically, you can tackle a 1-week itinerary in two ways: pick 2-3 base cities and have a very fast-paced trip that covers a lot of Italy, or chooses a single base city for a week and take day trips from there.
Both of these options have their pros and cons, but it depends on the kind of traveler you and your companions are.
Personally, I always urge people to take on just one base city. It will be less exhausting and allow you to spend more time enjoying the culture around you and less time in transit.
Choosing one place as a base gives you the opportunity to get to know the region and city very well. For instance, maybe you choose to stay in Florence, but you can then take a few days to explore the center city, get to know your neighbors, taking things slow. Then you can step out of the city to the countryside and get to know Italy's agricultural and gastronomical traditions, plus of course wine! This even leaves you a day to check out the nearby coast!
It is Possible to do Rome + Florence + Venice
Plus Cinque Terre and Naples,.. but only if you choose to change trains and hotels daily.
This itinerary means you will probably only have one day in each spot and will spend more time on trains carrying luggage around, then looking around and enjoying what Italy has to offer
A good meet-in-the-middle option would be to choose just three cities, two days in each. For Example Naples + Rome + Florence or Rome+ Florence + Venice. This way you spend a little time in each city, explore the sites and get to cover more ground (and more regional diversity!)
Find where to stay on your next trip to Naples, Rome, Florence and Venice by clicking here.
Best Advice?
Just slow down, accept you won't be able to see every gorgeous corner but make the most out of your time in Italy. Kick back with an aperitivo in every square, never spend an evening in the hotel restaurant, get out there and experience La Dolce Vita for yourself!