The real cost of living in Italy can be hard to define as we all have so different lifestyles, and the cost can truly vary drastically from region to region, city to city. Rather than give a soft overview of what I pay (I have talked about this on IG quite a bit) I wanted to break it down and do a little series on the cost of living in Italy starting with Renting in Italy.
Read on to learn all you will need to know.
Some things to keep in mind
Renting a place in Italy could cost you anywhere from €400 to thousands of euros a month. Rather than go in blind it is good to make a list for yourself. Decide your budget range, for example maybe you'd love to stick with €500 for a one bedroom, but if it has an amazing view and metro you'd be willing to go to €700? Keep this budget in mind when you start your search.
It is also great to have a list of requisites. For example when searching for an apartment with Fabio a balcony or terrace was non-negotiable, as well as good lighting, and close enough to a bus that I could get to the city when I wanted. Now my list includes a bathtub for my future home. Write these down and keep them in mind, but also be ready to be a bit flexible if you are short on time.
Remember, Italy is an old country, and some of their buildings show that, things may not always be luxuriously clean or new, they'll show that they have been lived in. If you need it to be brand new, be prepared to add a few extra hundred to your budget.
Renting in Italy- Location Budget
Of course when renting in Italy a big influence on price is the location. Milan and Rome tend to be the most expensive cities, and I have noticed Florence when targeting foreigners tends to have pretty high rental prices.
Perspectively, in Rome I never paid less than €500 for a room, in Milan €600, and now in Turin I pay €500 for a 55m apartment with a great view. Also for the record, many people said our apartment was overpriced. Friends in Milan I have heard pay anwhere between €800 to over €1000 for an apartment. So just keep this in mind when setting your budget.
Dont be afraid to live a step out of the city. Depending on your method of transport, this may be difficult. But if there is transport, or you often go by car or bike, look just an inch out of the city, chances are you'll find more space and it will be cheaper (especially for small cities like Turin and Florence this is a great option).
Also though smack dab in the center seems romantic, you would not believe how high up noise travels. If you are a light sleeper, keep in mind the night life of the center can be quite bothersome.
Average cost of an Apartment
While many Expat newspapers often provide average cost of living, they surprised me so I decided to do a little research on my own. I did find this interesting resource that gives you a general overlook at all the regions in Italy.
I looked at a few main cities, and searched for a 50-55msq apartment, one bedroom with a kitchen and living area. I looked in areas not right in the center of the cities, but just outside enough. Apartments I decided to consider were within walking distance of public transport or the city center. Also I considered only fully furnished apartments.
Rome- This was the most variable city that zone to zone costs so different, and it really depends on your needs regarding job or school location. On average however apartments were generally €800- €1000/month.
Florence– €700- €900
Milan- Again can really depend on how willing you are to be outside the city, yet still on the metro. I have lived in a few areas on the outskirts of town and didn't love it so for this study I considered more inside the city, only 4/5 metro stops away from the center or main stations. The price ranged between €900- €1100
Torino– In the city averaged €400- €600
Napoli– Again a big range by zone, but about €600- €800 got a good apartment.
Bologna– €700- €800
Pescara– €500- €600
Palermo– €400- €600
Bari– €500- €700
Rental Contract Type
Another thing you need to thinking about when renting in Italy is the contract type. This can effect your price quite a bit, it can also determine things like your residency.
Under the table
On certain marketplaces like Facebook, or through word of mouth, you may find a really affordable deal, but is it legal? Nope. Especially in Rome and Florence, these expat magnets filled with students, you'll run into a lot of under the table contracts. These are sometimes cheaper, and easier to get out of, however, they offer no protection. If something breaks your landlord may not help, and there is a chance they could kick you out (not easily due to Italian law but that's another discussion).
You also will not be able to claim residency at this address which could cause problems if you plan on staying in Italy in the long run.
Transitorio
Transitorio contracts are the legal version of short term contracts, commonly offered to students or short contract workers. These contracts usually last one year to 18 months, or if you are a student they can last anywhere under 4 years. Renewal can be done simply by drawing up a new contract. You can also often get out of them easier, landlords will either just ask you to find someone to take the room as you leave, or you'll have to write a letter to send by mail saying you are leaving.
You can find this type of contract offered both via marketplaces direct by owner or through agency postings. They usually are cheaper as they are regulated by law. Without going to much into Italian legal chat, it's just to say these contracts must fall into a certain price range decided by each region.
With this contract, many landlords may say you can't claim residency. Turns out there is no law whatsoever that can stop you from getting residency as long as you live there with a contract. However, seeing as how they are short term, it is up to you to determine if it is worth it.
Long Term Renting in Italy: Canone Libero and Canone Concordato
When choosing a long term rental in Italy you may see contracts labeled "4×4" or "3×2" these refer to the length of time. A 4×4 means the original contract is 4 years, then renewed for another 4. Or it can be 3 years, renewed for 2.
4×4 falls under canone libero, which means the owner prices it as they wish. 3×2 is technically limited by certain legal price restrictions depending on the land. All of these technicallities are more for the owner than the tenant and you won't need to get into the nitty gritty yet.
These long term contracts can be tough to nail down as owners often want maximum financial security. This means they want proof of a long term work contract and want to see paychecks. Even if you have a good job, but it is a determinato, or set time contract, they may be hesitant.
Rental Contracts- More to know
Just a few more words on contracts – a printed and signed document is more of a rental agreement. The actual contract has to be registered with the Agenzie delle Entrate, and you will want to keep a copy of it.
If you want to get out of a rental agreement, you will need to tell the owner by voice, but also send a "raccomandata". This is a letter that states your name, codice fiscale, and your intention to leave the rental agreement. It needs to be sent via post, ask for a raccomandata, which is official communication and tracked. Here is a great resource if you need help writing it.
Extra Fees
When you sign on a new contract, you'll have to be prepared to pay the deposit and first month's rent upfront, but also an agency fee. Often apartments may be managed through agencies, and this means you'll have to pay the agent 1-2 months of rent right away. So if you are counting, you may need up to 5 months' rent ready to go.
More often than not, the rental will not include any bills, even those regarding the building. Read the ads carefully to see if there will be many extra costs.
Where to find rentals?
If you are looking for short term rentals, Facebook groups or Marketplace can be good starters. Other options may be Subito.it or Idealista.
You can also search on Casa.it and Immobiliare.it which are better options for long-term rentals.
How to read a rental ad
Apart from the usual information of location, photos, and description, you'll often see a little table of information below the ads and I wanted to help break that down a little.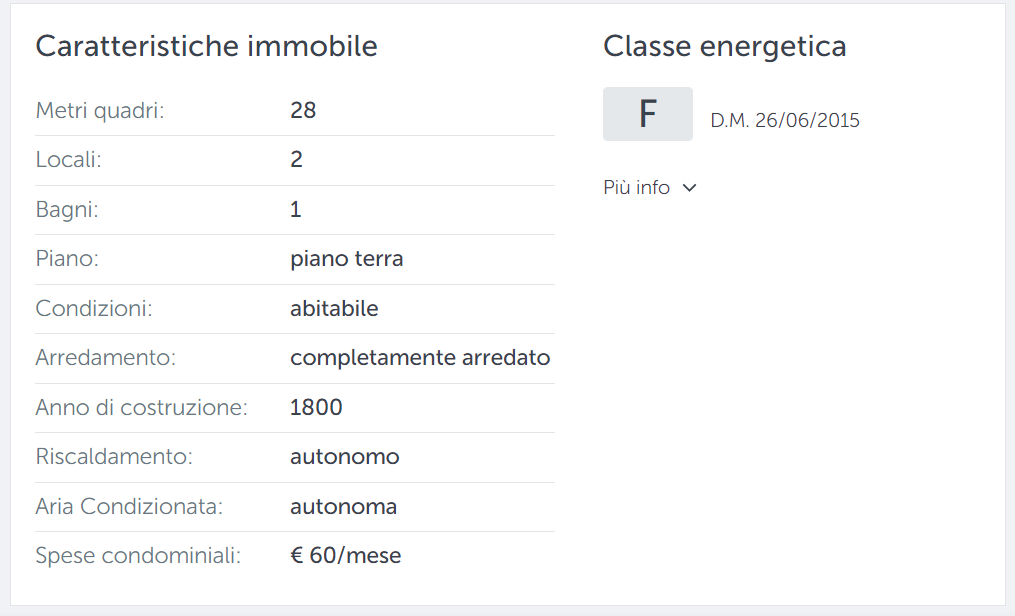 Metri Quadri refers to size; Locali to number of rooms; Piano is the floor level; and arredamento describes if it comes furnished or not.
Then condizioni refers to how livable the apartment is, or if it is a bit of a mess in need of renovation. Most rentals will be "abitabile" or livable, but when buying it is good to keep an eye on this.
Spese condominiali is the monthly fee for building upkeep, usually for cleaning the stairs and the like.
The Classe Energetica is REALLY important. This refers to the energy class, old apartments will have bad grades like C and lower, while newer tend to be B and A. What this will affect is your energy bill. Lower grades mean bad sucking of energy, meaning a much higher energy bill. When possible aim for a B or A grade. But more on your monthly bills in our next Cost of Living in Italy post!
If you found this information helpful you can show your support by buying me a glass of wine 🥂. I really appreciate it and each glass inspires me to research more into life in Italy!