Listen, I know what you think: ALL food in Italy MUST be amazing. Sadly this isn't always the case. It's actually pretty common when visiting touristy cities that you will find quite mediocre and actually terrible food. Even I have found my share of bad food here in Italy, but after so many years here I finally have a knack for finding the best places to eat in Italy. I know it can be hard after a long day of site-seeing trying to figure out where to eat, you usually stumble into the first place you see. But food in Italy is one of the best parts of visiting Italy, so best to not waste even one meal!
Here are a few tips for when you are trying to find the best places to eat in Italy.
Definitely get away from the tourist center
Rule one of finding the best places to eat in Italy: Step off the "Top Sites!" map and venture out of the main piazzas. There was once a time that fantastic family-owned trattorias and osterias were found beside Italy's most famous monuments like Florence's Duomo and Rome's Colosseum. But with ever-increasing rent and the sheer competition for these spots (not to mention organized crime's influence), many small businesses have head to scoot out of the way and are located in smaller areas.
What you will find in front of your favorite monuments are just straight up tourist traps. Giving you a price for the view, while they serve you quite mediocre food. (One exception I have found is in Turin, where tourism is mainly Italian and has not forced the great places out yet.
Choose a Spot with Italian Hours
Italians eat at specific meal times and restaurants who are made for the locals are open only those hours. Lunch is from about 12pm – 3:30pm and dinner is about 7:30pm – 11pm for dinner. If the restaurant is open, outside these meal times then it caters specifically to tourists.
Do not enter any place with a host trying to lure you in
Apart from the fact half the time this is unnecessary harassment and male hosts think it is ok to call me verbally harass women and you should not encourage them. This man outside trying to charm you in is a sure sign it is not a great place, their food couldn't convince anyone so they have to pay staff to convince. Just keep right on walking. These are the places you'll not see regional cuisine but rather some Italian dishes that you're likely familiar with from back home (Bolognese, rather than Ragu, Lasagna even though we are in Florence), the menu is bright, big and all in English and the host seems so sweet, telling you Welcome Welcome Welcome to Italy! and promising you a welcome drink on the house. Stay. Away.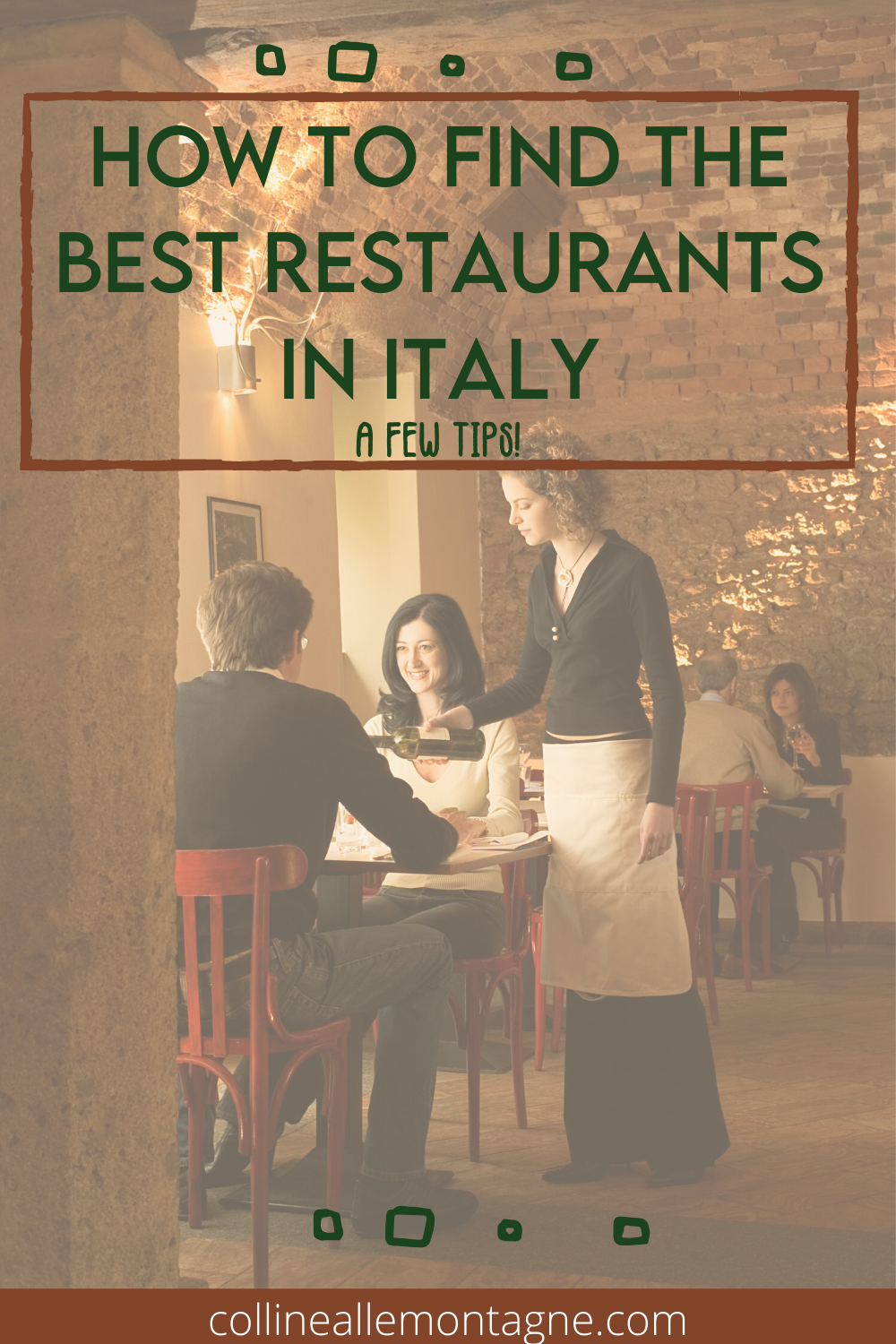 Let's look at the menu
Avoid menus with lots of pictures, and aim for one that is all in Italian. Of course given the amount of tourism it is true many places that are delicious now have a menu in English as well. But if at least the primary menu is in Italian you know it will be better! Keep a phrasebook with you handy for any translations, or just play around and order whatever has a nice ring to it!
Menus matching the regional cuisine, rather than generic "Italian food" will have better offerings.
Check the menu for Seasonal Ingredients while every cuisine may differ from city to city, you can bet the best restaurants are keeping up with what is in season! They usually even offer specials on the menu using these key seasonal (stagionale in Italian) ingredients
Here are just a few seasonal specials to look out for:
Artichoke (carciofi): January – June
Asparagus (asparagi): April – May
Chestnut (castagna): September – October
Eggplant (melanzana): July – October
Fig (fico): June – September
Pumpkin (zucca): September – November
Tartufo: October-November
Spinach (spinaci): October – March
Keep your ear open for Italian
If you hear mainly Italian speakers, it's a pretty good bet that their cooking will be authentic and delicious.
No pizza at lunch
Italians don't eat a whole pizza at lunch. In areas like Rome they may grab al taglio, or by the slice, but a whole pizza is a bit heavy. Plus it has to do with the heat! Authentic pizza is prepared in a wood-burning oven that takes a long time to heat up to the needed 485ºC (905ºF). Since it takes so much time and energy to heat the oven, they aren't keen on firing it up for short lunch service.
Pizza at lunch may mean they are catering specifically to Tourists.
About Fish…
First, universal rule, if you are further from the sea, maybe avoid the seafood as it is not typical. Second, keep an eye on what fish is on the menu, many common fish such as salmon, do not actually come from Italy. While they make some good dishes with it, it isn't necessarily the best authentic meal you can have.
Final tip when trying to find the best places to eat in Italy: Don't trust Tripadvisor
A huge one, because Tripadvisor has personally let me down numerous times. The thing about TripAdvisor is that the reviews are set by other tourists. And they may have given a high rating because the host was "extra nice" (flirty and offering drinks on the house), the view was beautiful, the fettuccine alfredo was so good… So this good rating is coming from someone who may not exactly know what authentic and the best of the best Italian food is. It is better to take these reviews with a grain of salt and think about it.
Also though if you check a restaurant's TripAdvisor or Facebook page and see lots of reviews in Italian, it's a great sign.
Still need help finding a good place? Contact me here or over on Instagram and let me know where you are headed, I will send you some good places!
If you are like me and love hoping in on an experience while traveling, you might want to hop on a food tour to fully enjoy the food scene in. These are a few I highly recommend.