You already know it: Italy is beautiful every year. From the dreamy summer beaches of Sardinia to the snowy Alps in the winter, blooming flower-lined cobblestone streets in the spring, and of course: gorgeous fall foliage. Foliage in Italy is just another reason to plan your trip for the Autumn, especially if you were looking to explore Italy's mountains or northern regions. Here are some of the best fall destinations for foliage in Italy.
Piedmont: A Fall Lover's dream come true
Ok, of course, this would begin with my own region, but it is true! From the vineyards in the Langhe to the numerous mountain forests, Piedmont is a dream come true for leaf peepers. They even have a train just for great foliage views!
The Centovalli Vigezzina goes between Domodossola and Locarno (Switzerland) taking a slow train journey through some of the most beautiful valleys of the Alps. You will take a journey through an Autumnal dream and also discover some of the great cultural events and gastronomic traditions of the area. This is absolutely a bucket list item for Foliage in Italy!
The Langhe on the other hand is for those of you squeezing in foliage and a little wine tasting. Towards November the vines begin to change color leaving rainbow hills around the region. What is really cool? Each variety of grape brings a different color leaf in fall!
Liguria: Parco regionale del Monte Beigua
Jump into UNESCO protected foliage at the Monte Beigua park. A large regional park that spreads over the Ligurian Apennine mountains. All the peaks are under 2,000 meters meaning not to cold and easy walking. From September onward you can begin to see the park change color, and numerous mushrooms pop up alongside the pathways.
Find the perfect place to stay to enjoy autumn in Liguria!
EMILIA ROMAGNA: Colli piacentini
As the seasons change and it starts to get colder it is the perfect time of year for some tortellini in brodo or lasagna, no? Pair the delicious culinary traditions of Emilia Romagna with some beautiful foliage by visiting the Colli Piacentini. Plus, this happens to be a great wine region of Emilia Romagna, so it is an all-around win.
Though there are not higher mountains, the area has plenty of forests and hillsides to see the changing vines and woods. Since it is a bit south, you might get better foliage towards October or later still in November.
Valle D'aosta: Foliage under MontBlanc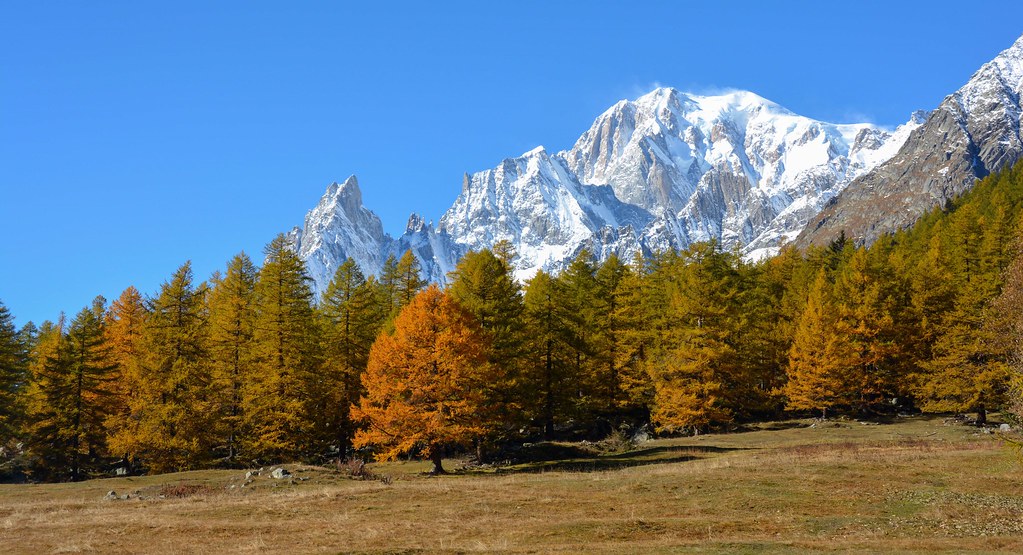 Perfect for active mountain lovers, and those of you who just want to sit on the porch surrounded by the beauty of Fall. Val Ferret is just a short way away from the foot of Montblanc, or Monte Bianco if you want to go with the Italian name. This area is filled with ski and spa resorts and is a favorite location year-round. You will find hiking, mountain biking, wellness spas, top restaurants, yet at the same time quite a bit of peace.
Fall escape from milan: Val Masino – Valtellina
For those of you already in Lombardy, head out to the nearby Forest of Bagni Masino in Valtellina. Autumn paradise is just a short trip away from the city, and oh the area has some great Nebbiolo.
Dolomiti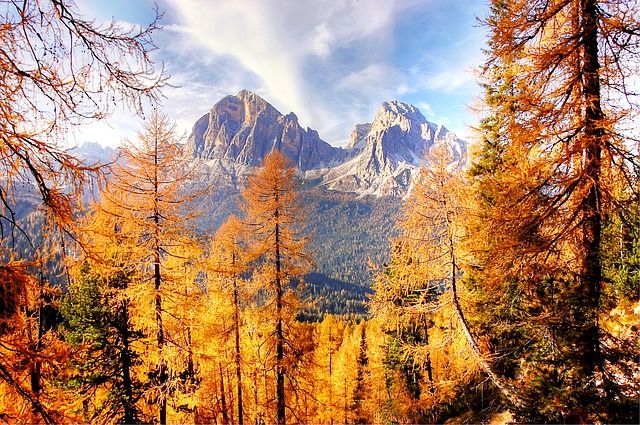 Love the mountains? The Dolomiti are going to be my answer for where to visit in ANY season. But of course, they sure are colorful in the Fall. A little clarification, the Dolomiti actually is a mountain range that can be found in Lombardy, Trentino, and even touch into Friuli. Many people head straight to the Tre Cime, and Cortina, these areas may get a bit crowded, I recommend heading to the area in Trentino. Basically, start in Bolzano and work your way northeast.
Not only the North, Foliage in Italy reaches Puglia: Foresta Umbra
A nature reserve in the National Park of Gargano. You will find this park at the top of Puglia to the East of Foggia. There are hikes and wonderful trattoria for lunch within the park, as well as a small lake. Plus with the weather holding nicely in Puglia, you can enjoy the fall foliage, then take a drive down to one of the regions great beaches, all in one visit!
Bosco del Cansiglio – Veneto
Part of the Cansiglio plain that spreads over Veneto and Friuli. You'll find beautiful forests and agritourism. This is the place to go if you just want to relax, no tough uphill climbs.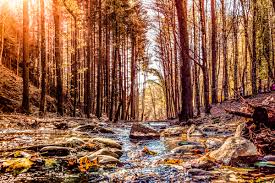 You can never forget Tuscany: Foreste Casentinesi
A national park in Tuscany's Apennine mountains, You'll find incredible wildlife, natural wonders so famous they made their way into Dante's Comedy, and even stumble across some historic monasteries. This forest is not far from the town of Arezzo.
Satisfied with your Fall Foliage in Italy?
Hopefully, this list makes gives you some good autumn in Italy dreams. Hoping to visit one of these spots in 2021? Contact me for a call and we will start organizing the Italy trip of your dreams
If you need some more of Autumn in Italy, sign up below for the Colline alle Montagne newsletter, the October issue will be filled with all things Fall!