Man, wouldn't we all love to be tasting Italian wines in the vineyards right now! But here we all are stuck at home with what wine we managed to stock up on. Social drinking has taken on a whole new meaning, sipping on a glass of wine while calling into zoom calls; and solo drinking is beginning to be much more accepted during this time.  Wine seems to be a staple during this time of social distancing.
While you are sipping your way through quarantine, why not expand your wine knowledge and take a trip to Italy!
And no, not through a bottle of Chianti or Pinot Grigio, those Italian wines have been done, let's take a step further and explore some more interesting Italian Wines to enjoy through social distancing.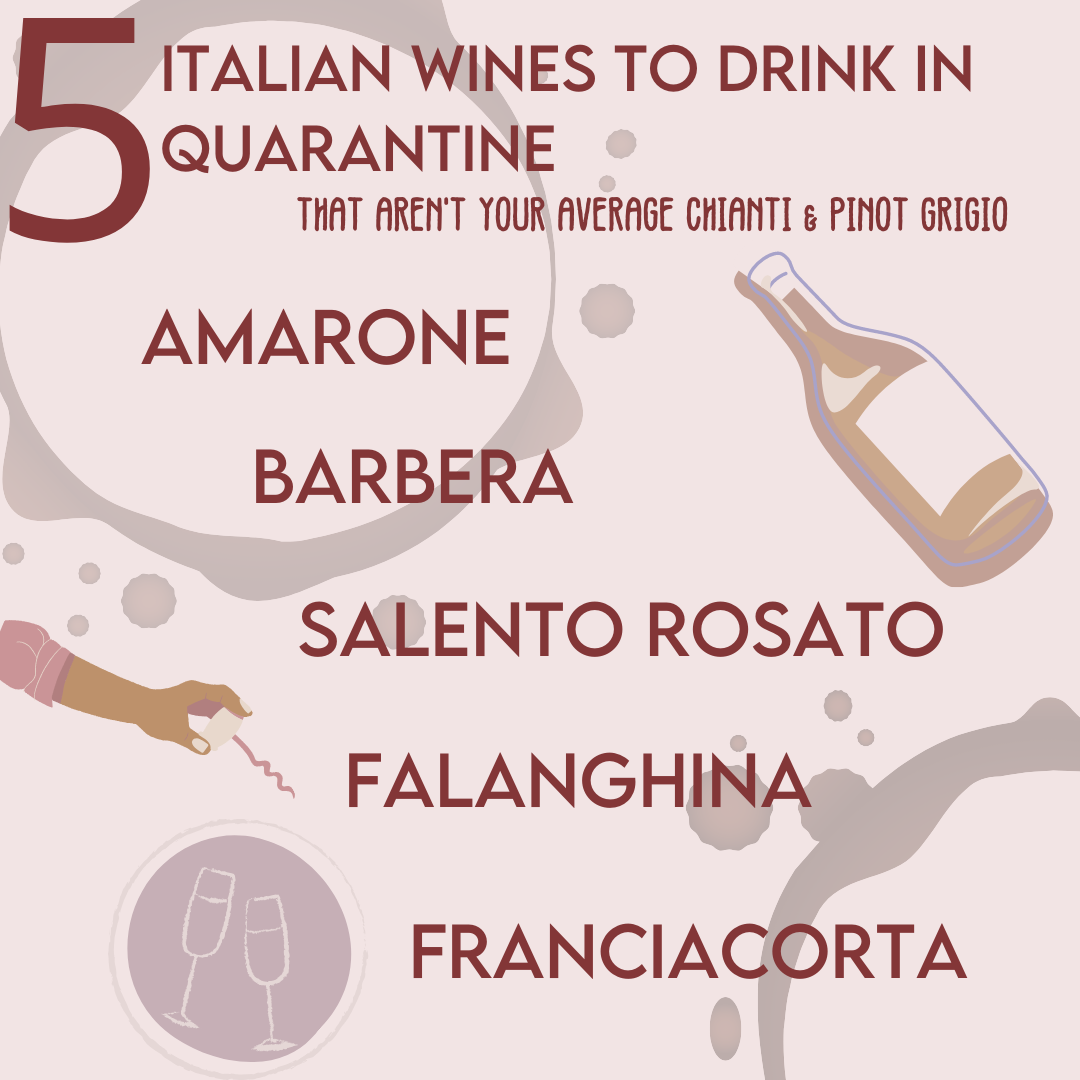 A Red for those accepting some alone time: sip on an Amarone. Amarone is a great "meditation" wine, perfect to pour a glass and have a little you-time, when quarantine starts to really get to you, take a breath and take a sip of this delicious red wine. Amarone is a rich dry red wine produced with Corvina and Rondinella grapes. It comes from the Veneto region in northern Italy. What is particular about this wine is that they allow the grapes to partly dry out, to create a more flavorful wine. Amarone has flavors of black fig, cinnamon and plum along with a little pepper and chocolate.
But maybe you are craving a Red wine to sip on during FaceTime dates, well pour yourself a Barbera, from Piedmont. This wine is the most friendly and easy to drink wine, perfect for Virtual Wine dates, and for dinner. This dry red has nits of dark cherry, strawberry, and blackberry as well as some earthy and vanilla aromas. Barbera has many different denominations coming from Piedmont, I am partial to the Barbera d'Alba Superiore. You can even order this wine direct from Piedmont, from one of my favorite producers: Francone Vini.
Searching for a White Wine? Well, if you have ever met me, there is one White Wine I will ALWAYS recommend: Falanghina. This Southern white comes from the heart of Campania. "Falanghina de Sannio" is the DOC version. These zesty wines remind me of summer days, they are medium body and filled with citrus perfumes and a tad of peach. This is a great everyday wine to pass quarantine with!
For those of you who need Rose all day: Try out a Rosato from Salento. These Pugliese wines are made from Negramaro, Primitivo or a blend of the two. They are refreshing wines, quite dry and light. I am partial to the Primitivo Rose's as they tend to be just a tad fruitier. This wine is perfect to have as an afternoon drink, kick back while working and wining from home.
Sparkling Lovers: Who says you need a reason to celebrate to pop open a bottle of sparkling wine? Listen we made it through another day of  quarantine, maybe you got dressed today, you went outside, you actually tried a homework-out, or you signed off Zoom. All these little wins count as sure enough reason to pop open an excellent bottle. While the bubbly budget lover might think of Prosecco, why not treat yourself to a little Franciacorta.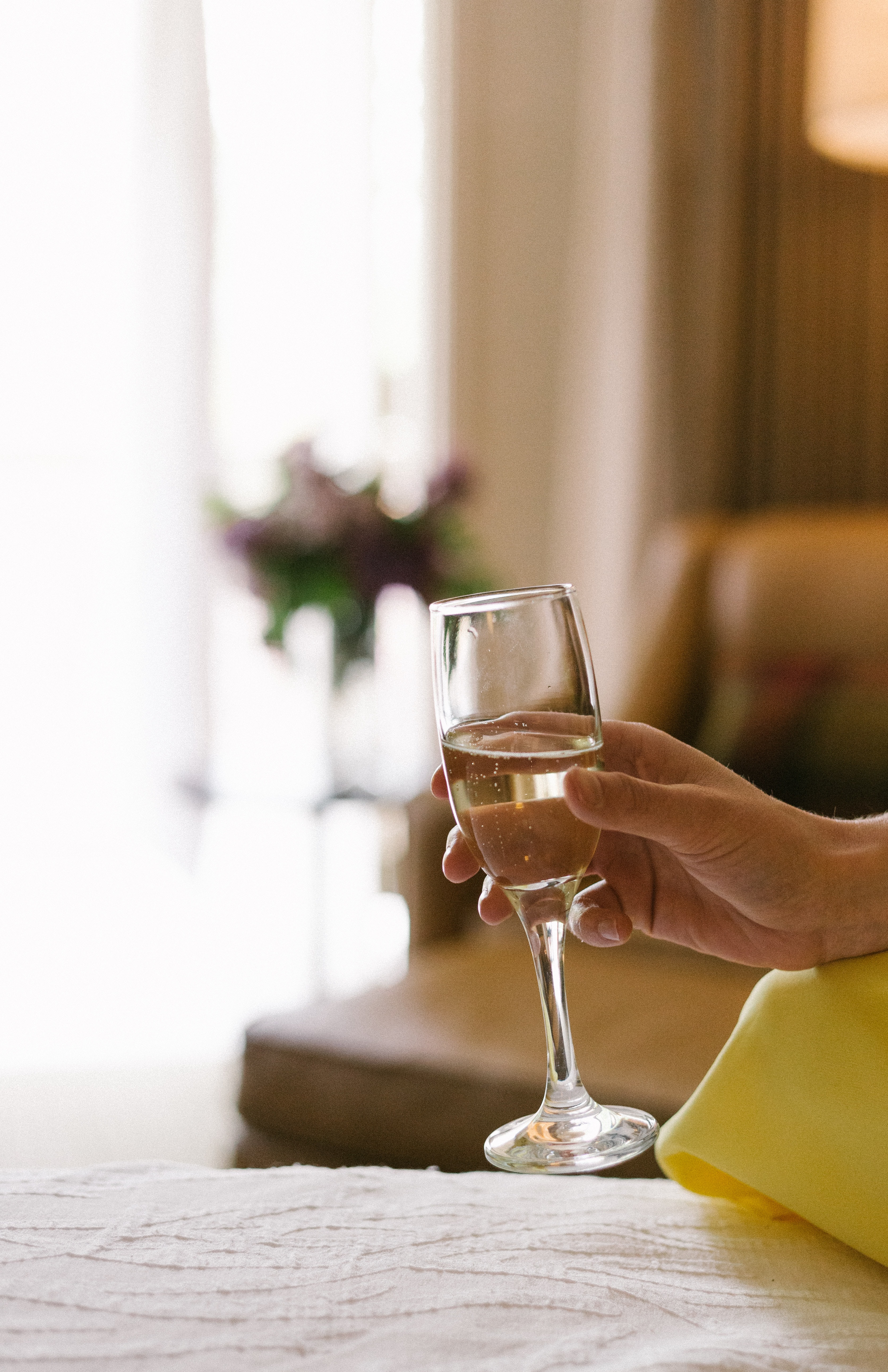 Franciacorta is a DOCG (simple terms: it is checked for the best quality!) sparkling wine from the North of Italy, near Brescia. It is produced from a mix of Chardonnay, Pinot Nero and Pinot Bianco. This sparkling wine is made in the same method as champagne: this means the second fermentation takes place in the bottle. While prosecco may often taste the same across the board, with the Traditional Method, and DOCG status, Franciacorta tends to have more refined notes in its tasting. Plus the bubbles are extra fine. Bellavista isn't a bad one to start with.
If you want to learn more about the different wines of Italy check out this post! Tell us what your favorite Italian Quaran-wine is over on Facebook or Instagram!