Piedmont is one of the largest wine-producing regions in Italy, Famous for it's renowned Nebbiolo wines, Piedmont actually has quite a number of different wines to be proud of.
The history of winemaking in Piedmont goes way back to before the Romans, when the Taurini were most likely taught vine growing methods via the Etruscans. Even during the Roman times, Piedmont was already making a name for itself with its Nebbiolo, as noted by Pliny the Elder. However, the first specific mention of Nebbiolo by name occurs later in 1268, noting the vines growing near Rivoli.
Another early mention of Piedmontese wines was in the 1300s when Pietro de Crescentius wrote his agricultural piece Liber Ruralium Commodorum. In the 17th century, Chiaretto became famous with production by the court jeweler of Charles Emmanuel I, Duke of Savoy.
Today Piedmont produces 17 DOCG and 42 DOC wines. Let's have a look
RED WINES of Piedmont
Nebbiolo
Best to start with the one everyone is thinking of. Nebbiolo has been proven to be an indigenous and unique grape to Piedmont. It produces Nebbiolo wine, Barolo, Barbaresco, Gattinara and Ghemme. All different denominations of regions reflect different wine production techniques. Nebbiolo is always a very well-structured, tannin-filled red. But something interesting to test out is comparing the classic Langhe Nebbiolos, with one from further North in Alto Piemonte. These northern Nebbiolo grow in more mineral-based rocky soil and turn out much fresher and a tad lighter than the strong Langhe Nebbiolo.
While Nebbiolo is so popular it actually only is grown in 6% of Piedmont's vineyards! This has to do a bit with the history of phylloxera in the region, plus it is tough to grow, but also with certain denominations having yield regulations.
Barbera
The most common wine of Piedmont, while Barolo and Barbaresco may be the wines of royalty, Barbera is friendly, yet refined, day-to-day wine drunk by the people of Piedmont. Barbera has a number of different denominations and regions in Piedmont, so the flavor may vary. However, you can count on it being a Medium Body, a purplish hue, and just the right combination of red fruits. This wine is easily drunk on any occasion! My personal favorite is the Superiore d'Alba, but you can try also Asti, Monferrato, Nizza, and more!
Barbera is presumed to have originated in Monferrato around the 1200s, where there have been legal documents claiming the land for the production of this vine.
Dolcetto
This is a soft red with a hint of spice, not always as welcoming as Barbera, though Dolcetto is considered a wine of the people. It really is the perfect fall wine, Dolcetto is grown throughout the region but two places considered of higher quality are Dogliani and Diano d'Alba. I vote for Diano d'Alba always!
Grignolino
Most commonly drunk young, Grignolino offers a fruity and acidic red wine. Its name in local dialect means "many seeds". While it was always considered to be a young wine, history shows us that the Savoy family kept aged Grignolino on their wine list with Barolo, clearly, there had to be something special. So, Tenuta Tenaglia decided to relaunch this aged Grignolino and it is now ready to be drunk. This wine was very interesting to try, especially when you know it is really one of a kind!
Freisa
Freisa is another light wine for day-to-day drinking. Not too much is known about this grape but it does appear to be a child grape of Nebbiolo and history takes us back only as far as the 1700s. While many traditionally produce this wine in a slightly sweet and frizzante version, I tend to think it should be tried also in its Fermo, or still version. One of the best I have found has been from Cascina Gilli.
Right over the Po in Turin, you can find the Villa della Regina, surrounding this Queen's Villa are rows and rows of Freisa which the company Balbiano produces a special Freisa di Chieri DOC.
Ruche
Ruche is the real hidden treasure in Piedmont, This native grape was produced at such small quantities it was primarily only for family consumption until about the 2000s.
The name is still a mystery, but we do know it originated in Piedmont and was near extinct until about the 1970s when Don Giacomo Cauda began producing in Monferrato again. It gained DOC status in 1987 and DOCG in 2010. This wine is high in alcohol but goes down smooth as it is soft, refreshing, and fruity. The must-try Ruche I would have to say is L'accento by Montalbera
Now, there are plenty more red wines in Piedmont, but I think it's time we have a look at the whites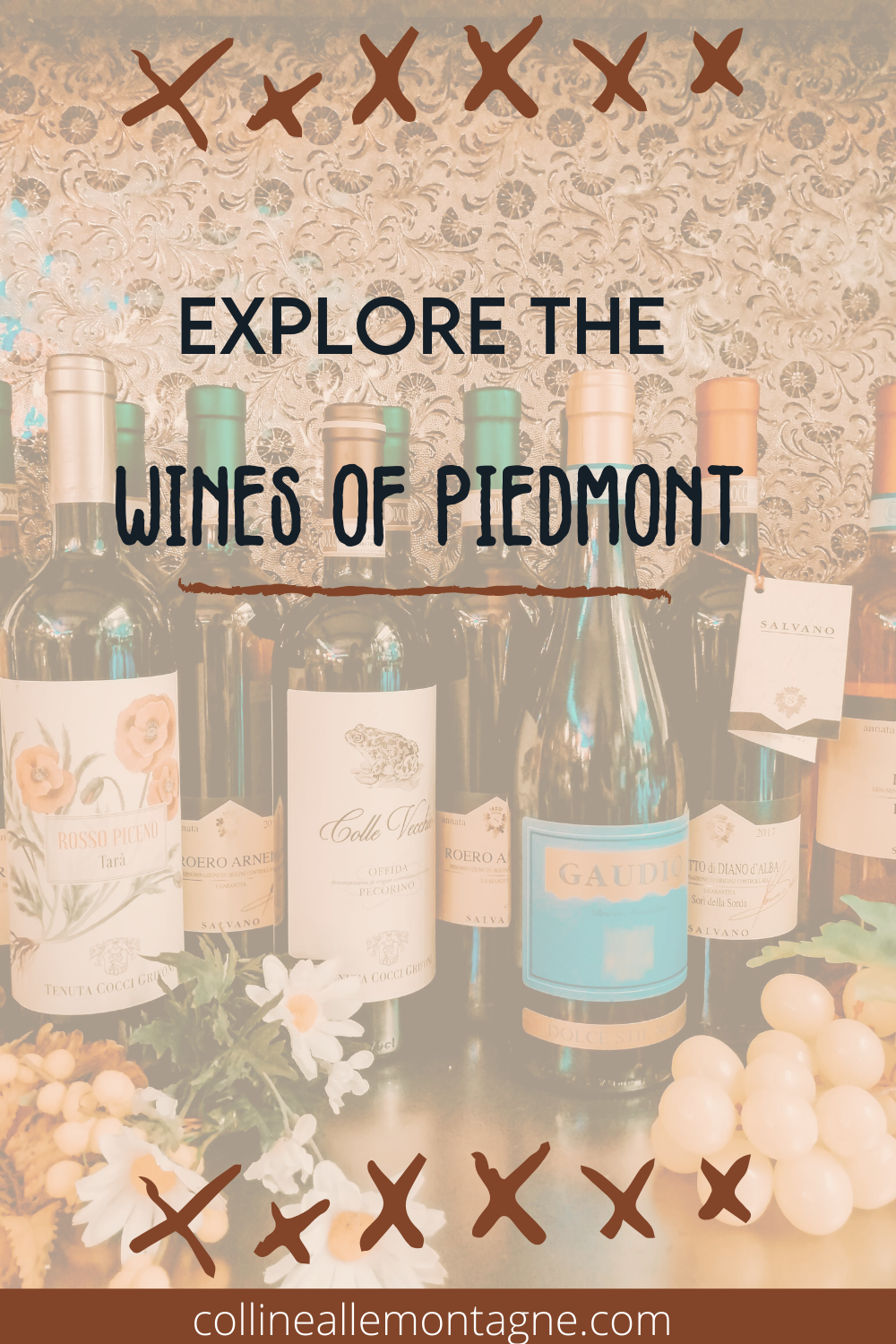 White Wines of Piedmont
Arneis
With a name meaning Little Rascal, Arneis is famously difficult to grow. However, it has resisted and proved to be the gem of Piedmont's white wines. Dry, full-bodied, refreshing with notes of citrus and pear,
Sometimes called Nebbiolo Bianco, it was historically blended with Barolos to soften the tannins. Over time it lost its popularity and in the 1970s only two producers managed to keep Arneis alive, Bruno Giacosa and Vietti.
Today Arneis from Roero has the DOCG status, but you can also find great productions outside this region.
Gavi
Gavi or Cortese di Gavi is a light fruity white wine found around the town of the same name. The wines are usually low in alcohol but are age-worthy and are crisp with citrus notes.
Erbaluce
A white wine coming from just north of Turin. Erbaluce has a recorded history dating back to 1606. The wines have a quite apple-y character and often are great for sweet wines. When drunk as a dry wine it has noticeable acidity.
Sparkling Wines
Though usually quiet when it comes to international sparkling wines, Piedmont actually produces some incredible Metodo Classico wines coming from Asti.
The most common is the Moscato d'Asti, A sweet fruity sparkling wine usually reserved for special occasions.
However, in Piedmont you will find the unique Contratto winery. Contratto has been producing incredible champagne-style wines since 1867. They chose Canelli for the underground natural wine gives that give perfect conditions.
Their wines are mainly a mix of Pinot Nero and Chardonnay, at different dosage levels, they also produce a Moscato d'Asti. If you are a sparkling wine fan, you definitely need to give them a try.
By no means is this a complete list of all the wines in Piedmont, but at least if gives you a start for your tasting list! If you want to know more or come and taste some of these awesome wines in the vineyard, check out Scarlet & Hues who offer some amazing boutique winery tours around Piedmont!